Thanks Arjé!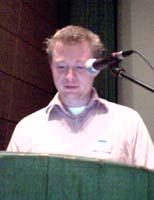 Everything's running smoothly here at the Cocoon GT 2005, thanks to this man (shown here before he got his coffee) and his team!
We're having a great time as usual, had two productive Hackathon days and today looks good already - have a look at the pictures. Audio recordings should be available after the conference.
Big thanks to Arjé and the Hippo team!