Flying to work - my new ebike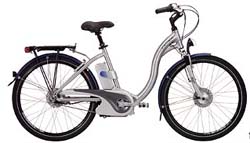 Today I finally received my Flyer electric bicycle!
It's not that the delivery took that long, but the first time that I tried one was 1999, and I've been looking to buy one since then.
The battery life wasn't up to snuff then, but today I just came back from work (12 fairly steep kilometers) using less than 30% of the capacity, so I'll be able to do the round-trip to work on a charge.
We'll see how I do in the coming winter, but I hope to use it all year round to commute to work - it takes me only about 30 minutes more round-trip in total, but this will give me more than an hour of exercise a day!
It's not exactly cheap (about 2500 euro for my high endish C8+ version), but the quality is really good - and the city of Lausanne sponsors buyers who live or work on its territory, well done! More info on the www.biketec.ch web site (not in english at the moment apparently).
Riding this thing is way cool, the electric assistance is very natural, makes you feel bionic at times! I don't think I'd have enough courage to do the steep climb back every day on a normal bike, but with this thing it should be possible. Time will tell..