Felix on Sling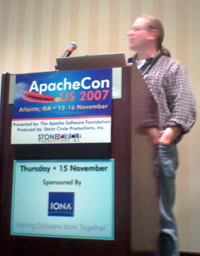 Yesterday night's BOF was a good opportunity to make more people aware of the nice things in Sling, and now Felix is on stage talking about it as part of the Fast Feather Track.
Fifteen minutes is a very short time to present your project, but still, the Fast Feather Track is a great opportunity for new projects and speakers to bring their contributions to ApacheCon.
Note that Felix is also a committer on Felix. Recursive committership maybe? I've heard the httpd guys are jealous...but it's hard to find someone named httpd to be a committer I guess.