Craviotto drums - wow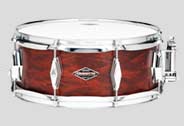 In my quest for a new snare drum last week in Silicon Valley, I ended up at Gelb Music, where Don suggested that I try his favorite one, the Craviotto one-ply snare (nice store by the way, friendly staff and lots of instruments and accessories to try out).
What a drum - I couldn't afford it as I had other stuff to buy as well, but the sound quality and dynamics of this snare are absolutely amazing. It was not that expensive, about $700 if I remember correctly, which is much less than I would pay here in Switzerland for anything similar. Craviotto also makes complete drumsets, but the only price indication that I could find by browsing around is $8000 for a four-piece kit, which is not exactly in my price range at this time.
In the end I got a nice sounding Yamaha maple snare, it's miles better than my current 20-years old brass one and was only a bit over the budget that I had initially set. I guess life has to be made of compromises, and this is a more than decent one.