On speaking in URLs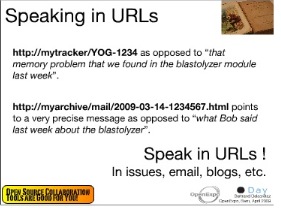 I've seen about five examples just today where speaking in URLs (I spoke about that before, slide 27) would have saved people from misunderstandings, and avoided wasting our collective time.
When writing about something that has an URL on a project's mailing list, for example, pointing to it precisely makes a big difference. You will save people's time, avoid misunderstandings and over time create a goldmine of linked information on the Web. It's not a web without links, ok?
Writing https://issues.apache.org/jira/browse/SLING-931 (or at least SLING-931 if that's the local convention) is so much clearer than writing about "the jcrinstall web console problem". You might know what the latter is right now, but how about 6 months later when someone finds your message in the mailing lists archives?
Of course, all your important technical things have stable URLs, right?